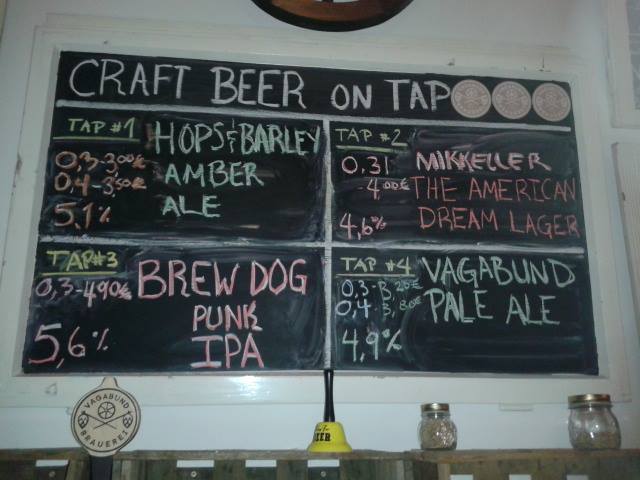 This is the story of three Americans in their mid-thirties who came to Germany to learn how to brew. Happy about the quality of the beer but not satisfied with its diversity, they had an plan: to show Berlin the vast variety of beer flavours.
"Of course, we quite liked the beer here", says Tom Crozier, "but mostly it is only Pils." – no trace of variety and experimentation. The English teacher and his two friends, David Spengler and Matt Walthall, did not hesitate for long and started brewing their own beer in their kitchen, using US ingredients. "Pretty crazy for Americans to start a brewery in Germany," says Tom. They decided to follow the trend of craft beer brewing which started in the US a couple of years ago and is now entering Berlin and Wedding.
Why Vagabund?
"Everyone wants to know that", Tom grins, "but the name is really obvious. A vagabond is someone who leaves home to discover something new, to find new friends, who can find his home anywhere." As the brewing masters (Braumeister, or master brewer, is a protected title in Germany) have settled down a bit, they now live a less roaming life than a lot of their guests. At Vagabund brewery, which has a cartwheel and hops as its logo, a colorful mix of people gathers. Community and conviviality were also the reasons for Vagabund's successful start.
Crowdfunded beginnings
"We learned brewing mainly from books and the Internet!" Tom sounds proud as he says this. He knows that he wouldn't have been given a bank loan with this 'brewing experience', so the brewery needed to be funded in other ways. Enthusiasm and an idea far away from the mainstream were the necessary ingredients for a successful crowdfunding project. Within two months, they managed to get 22,000 € for technical appliances. The members of the 'Community Supported Berwery', who gave this initial sum to Vagabund, receive beer or T-shirts for their capital. Plus, everyone can help with or watch the brewing process – there's a lot to learn about the beer universe. The familial atmosphere and the option to try things are important for the brewers and their supporters.
Growing in the Kiez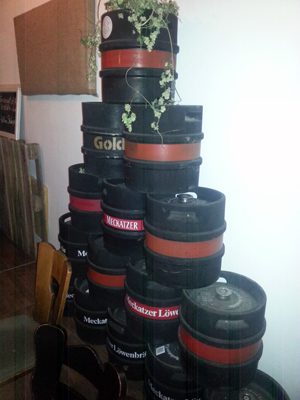 A big, yet cozy room with a long wooden counter where you can have a good chat is the meeting point of the community. "We live in Wedding and don't want to change it," explains Tom. Instead of upgrading the Kiez, Vagabund wants to grow in it. Already, most of the guests come from Wedding and Gesundbrunnen. If there's light and Vagabund's logo is hanging above the door, your chances of getting a nice fresh beer are very good at Antwerpener Str. 3. Together with their own creations, the three always offer exceptional beers from other breweries, such as Wedding Pale Ale or the Belgian 'Trappistenbier'.
For now, only one of the three self-made brewers will cater for the business full-time. "Vagabund can mature, just as a good beer. Of course, we want to be able to live of it, but it is OK if that takes a couple of years," Tom finds. Maybe the brewery just grows in a way that works for the Kiez…
A traditional trend
Brewing has a tradition in Wedding: Between 1891 and 1982, the University's experimental breweryexisted at Seestr. 13, brewing 45,000 hectoliter in the 1920'ies. Today, the brewers prefer quality instead of quantity. Since 2001, 'Eschenbräu' at Triftstraße has been proving how much taste can be found in unfiltered beer – the brewery which also produces apple juice and whiskey is not a secret tip anymore. More beer can be found just around the corner, at 'Hopfen und Malz' (Triftstr. 54).
Antwerpener Str. 3, 13353 Berlin
open thursdays to saturdays from 7 PM
Translation: Daniela Hombach
More on Wedding's English Language Facebook-Page "Der schöne Wedding"