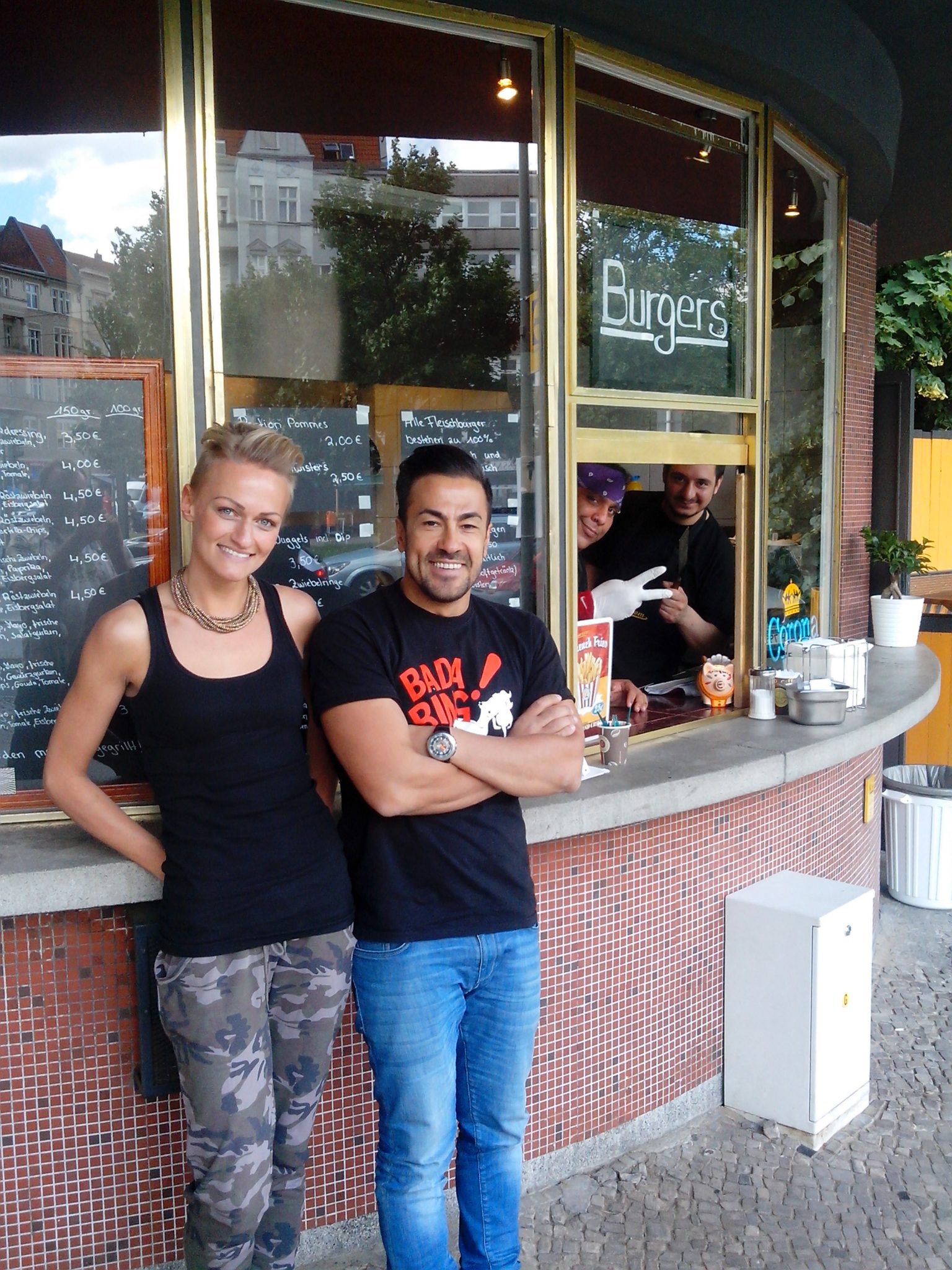 After a nine-year long vacancy, the 1955 heritage-listed kiosk at Seestraße cemetery has become a Wedding attraction again – Not only because of the architecture from the 50ies, but now also because of the food.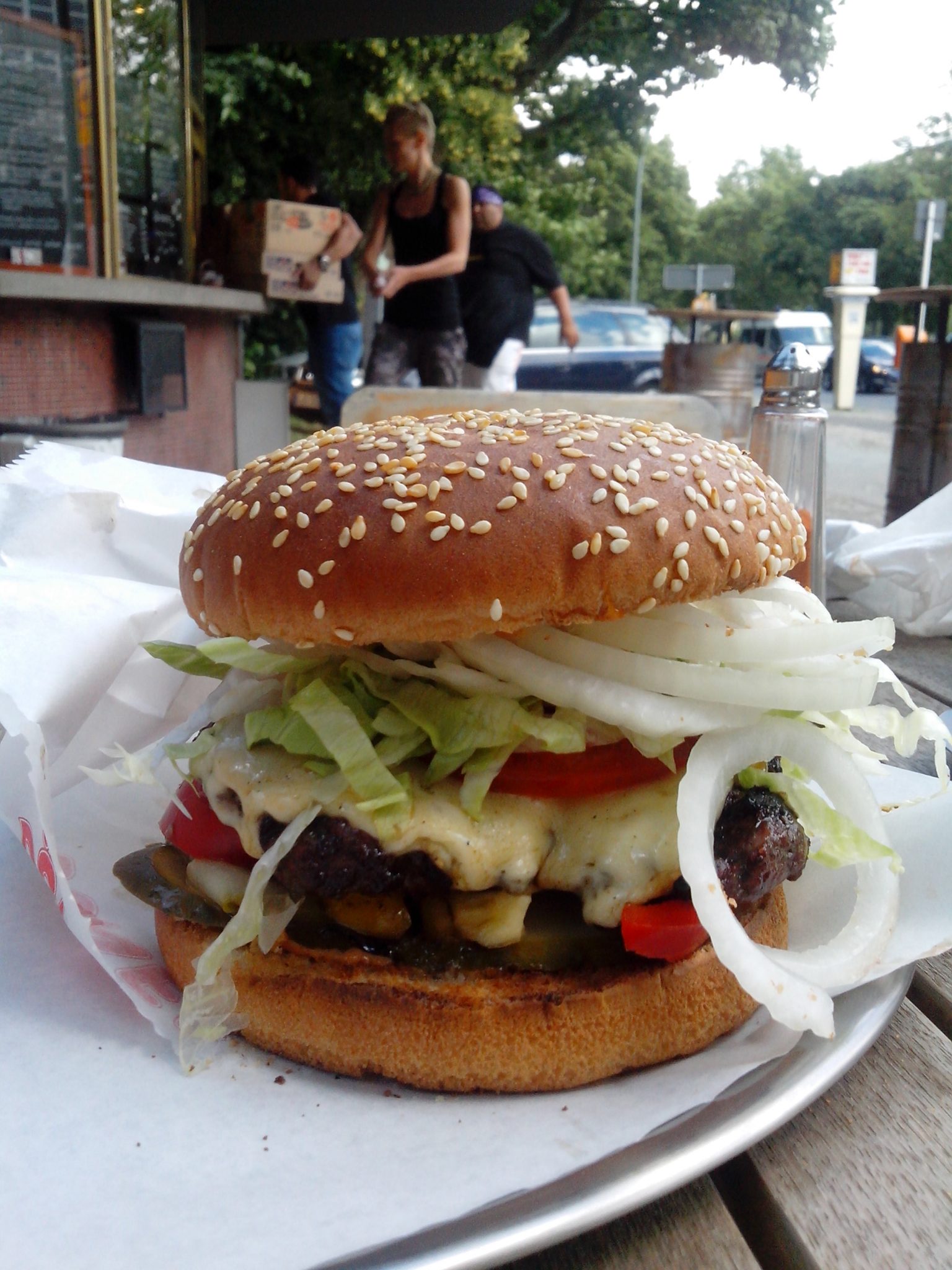 "When it comes to food, Wedding is usually neglected, and we want to change that", says Tolga Büyükuzun. The 37-year old and his partner Jarmila Arnold are regulars in Berlin night life and noticed that a lot of students and people who are new to Berlin live in Wedding now. "But they usually only find Döner to eat", reckons Tolga. The two gastronomes still live Prenzlauer Berg, but who knows for how long that will still be the case… "Slowly you hear all over Berlin that Wedding is underestimated", says Jarmila.
The figurehead of their kiosk is the 'Rebel Burger', made with fresh beef, the secret 'Rebel' sauce, roasted onions, capsicum and cheddar cheese. "We prepare the meat patties every morning with fresh meat from the central market", explains Tolga. The most important rule is that everything needs to be fresh – nothing is frozen. That explains why you have to wait ten to twelve minutes for your burger to be ready. For non-meat-lovers, they also offer a vegetarian alternative.
The name 'Rebel Room' comes from the time of racial separation in the US, when black people gathered in their own pubs to make music. "Actually, we planned to only play Rock'n'Roll", says Tolga. But the kiosk has so much of a Berlin flair that they did not want to make it too 'american'.
This is what our reader Clemens thinks about 'Rebel Room Burger':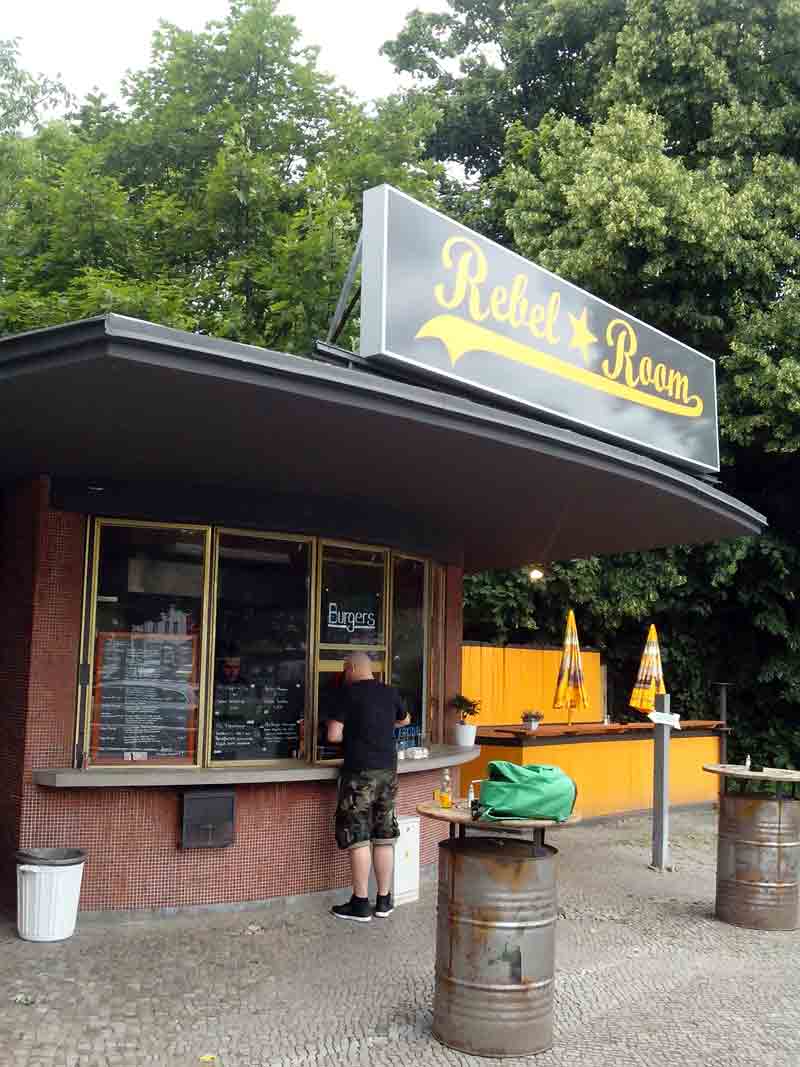 "We were wandering along Seestraße on a summer's night when we discovered a newly opened burger restaurant. Curious and hungry, we decided to test it straight away. From the outside, 'Rebel Room Burger' makes a good optical impact. In front of the restaurant, there are tables with sunshades. To the left, you can find a little platform with a beer garden, equipped with green beer garden benches and inviting you to stay.
The two of us ordered a menu each – Cheeseburger and BBQ-Burger. The menu consists of the burger, a soft drink and a serve of fries with ketchup or mayonnaise. The prices – around 6 € for a menu – are moderate. After having paid, we received the receipt with our ordering number and waited in the little beer garden. When your meal is ready, they call out your number and you can pick up your food – which we didn't even have to do as a nice young employee brought us our burgers.
The menu was definitely filling: The fries were hot and crunchy, but the best was – the burger. Important to say that everything on it is fresh. The patty is made from fresh minced beef, and the lettuce was fresh, too. The delicious taste of the burger is just convincing – 9/10 points!! After having enjoyed our meal, we decided to stay for a beer.
To wrap it up, the atmosphere, the friendly employees, and mainly the awesome food convinced us. We can definitely recommend a visit to 'Rebel Room Burger' to any Weddinger who is a fan of good burgers.
Author: Clemens Hering
Translation: Daniela Hombach
More on Wedding's English Language Facebook-Page "Der schöne Wedding"

Rebel Room Burger
Seestr. 93
13347 Berlin
U Seestr. U6, Trams M13, 50, Bus 106
Opening hours:
Monday to Sunday, midday to 11 p.m.