'Supermarkt' at Brunnenstraße 64 is a place of many opportunities. Behind the window front, a young, creative and somehow new world can be found. At the moment, 'Supermarkt' is a library for everyday items: bike trolleys, hand carts, electric drills, kids' car seats, hiking backpacks, a rope, and many more things. Since April, Andreas Arnold and his LifeThek have found a place at the 'Creative-Resources-Center' at Brunnenstraße. The LifeThek will stay there until the end of June and will be part of the 'Share Fair' on the 8th of June, also at 'Supermarkt'.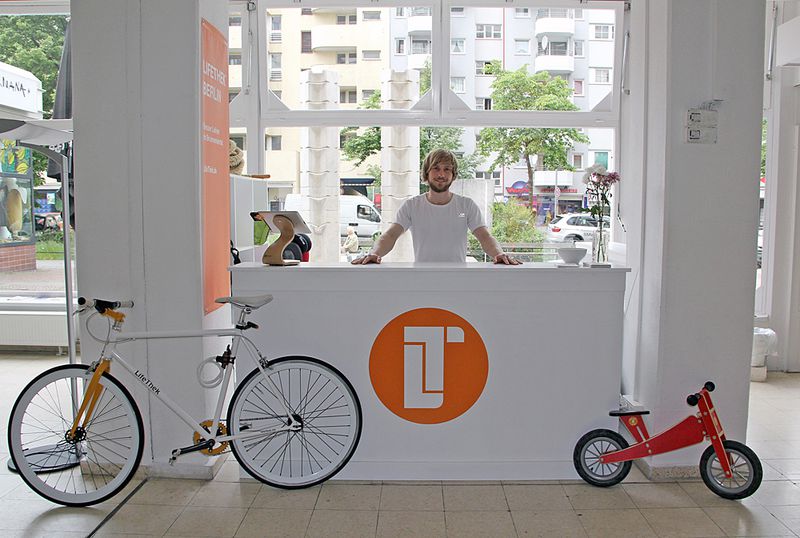 "Possession weighs you down. Sharing things makes life easier", says Andreas Arnold. If you don't buy but share things, you save resources, space, money and time. Andreas turned the 'green lifestyle' idea into his profession and opened the LifeThek at Brunnenstr. 63 – a library for items of everyday life. The ideas is simple: Various items can be borrowed for a couple of euros. Once they're not needed anymore, you hand them back.
"The hand carts are awesome – they are gone immediately", explains Andreas. If you want to borrow one, a reservation is recommended. Bike tobaggons are always wanted, too. Andreas has about 50 items in his LifeThek. The website, www.lifethek.de, shows which items are available at any moment. The idea for the LifeThek came from Hamburg to Brunnenstraße.
Many more items can be sent to Berlin from Hamburg – over 500 items are only one click and a couple of euros away. The LifeThek was invented by startup entrepreneur Dirk Feldmann two years ago. In Hamburg, he started the first store, Andreas Arnold now started the second one in Berlin.
"People want to be flexible today. Share economy is perfect for them", says Andreas.
A car seat for when the grandchildren come, a projector to show your holiday videos, a huge tipi and a wooden castle for a birthday party? "They're all items which you don't need that often, why should you have to buy them?", asks Berlin's  LifeThek shop assistant. A sledge, or a boat, or a kite,  also spend most of their time in the basement. Why not borrow it and then leave it to other people? The offers are mainly focusing on families – for a reason: "Families don't usually have a lot of money to buy everything, and they grew up with the internet".
Pop-up shop until the end of June
Andreas opened his store in April at Brunnenstraße 64. "We wanted to be close to the family areas in Prenzlauer Berg because they always like to borrow things", the young entrepreneur explains. "Wedding is an interesting area with a lot of startups, the technology park Humboldthain is exciting", Andreas explains why he chose Wedding. He found a fitting spot at 'Supermarkt', because there everything is centered around new ways of working, around creativity and the internet. Sharing is a big topic there, too: At 'Supermarkt', you can borrow desk spots – complete with desk lamps, a posting service, internet and a water dispenser. "We'll be here until the end of June", Arnold says. 'Supermarkt' could be to small for the LifeThek soon, though.
The public perception of the LifeThek is good and so is the connection to  public transport – important to pick up things from the store and return them. Andreas hopes that he can stay at Brunnenviertel.
The LifeThek is open Mondays, Thursdays and Fridays from 10 am to 6 pm and Saturdays from 10 am to 4 pm.
Foto and text: Dominique Hensel
translation: Daniela Hombach
More on Wedding's English Language Facebook-Page "Der schöne Wedding"