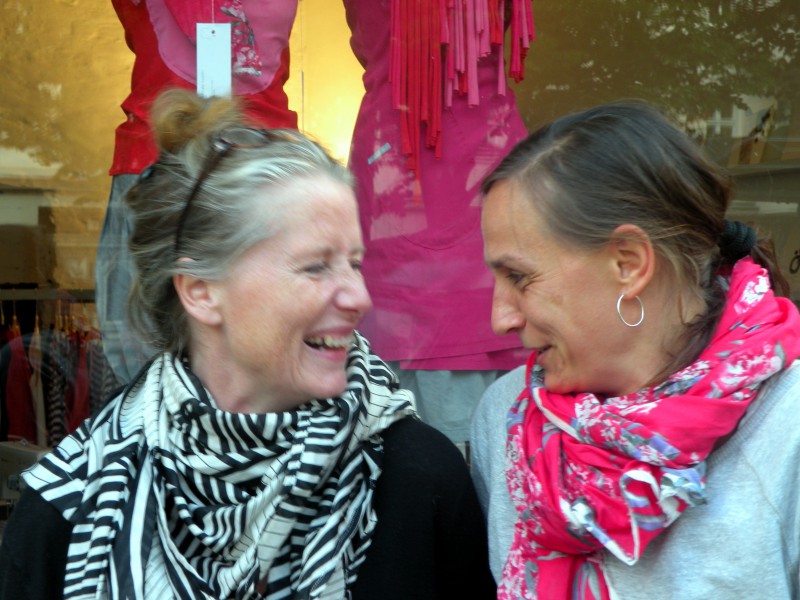 'Montagehalle' is a friendly place – tidy but cosy. There are rough, white walls; a shelf with artistic graphics. Colourful scarves and Jersey-strings in almost any colour of the rainbow: the famous 'Frühlingsröllchen', or 'little spring rolls'. The name 'Montagehalle Berlin' is the name of both the label of Annette Haußknecht and Suse Stock and of their shop in Togostraße 79. The shop serves as production and sales facility – a creative workshop.
Wedding in a white gown
"Gowns, that's how it all started for me. Handy clothes with pockets for all sorts of things", explains Suse Stock, who studied fashion design. Her tailored gowns, however, are much more than just a handy piece of clothing: They exist in denim or silk, sporty and fashionable. Even old surgery coats are used and completely changed. "Their material is extremely soft, because it has been washed millions of times", says Suse.
She proved her conviction of her business idea by getting married in one of her pieces: "I wore a white silk gown for my wedding. As a joke, I stitched a little green target with an arrow on it. My husband had the same on his suit."
"We don't try to change each other"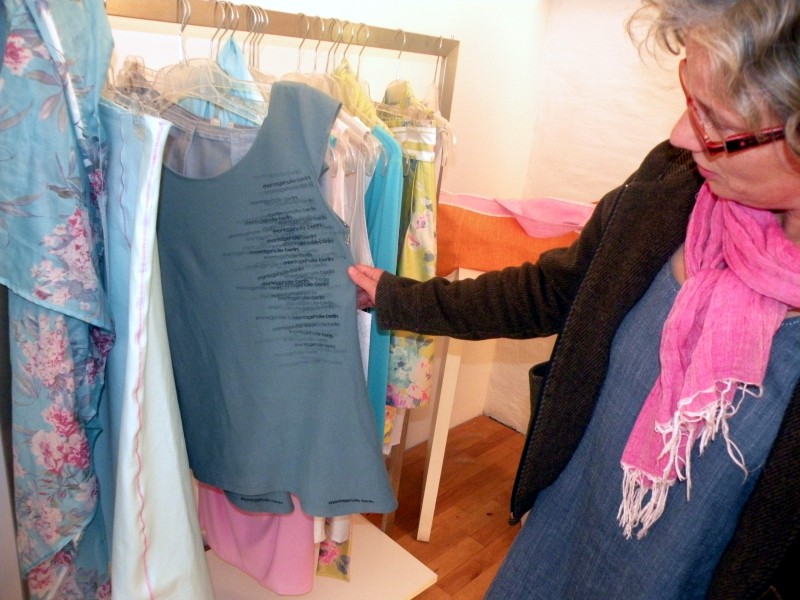 Annette Haußknecht, who studied architecture and ended up in fashion by chance, explains that each of them produces their own items. Their styles of working are very different: "Suse draws what she wants to create and then picks the material. I do it the other way round – I start with material, and then I think about what to do with it." This is how she creates unique clothes which bear her handwriting. "Balloon skirts are a speciality of mine", says Anne Haußknecht. Suse Stock adds: "We inspire each other and learn from one another. But we don't try to change each other, we just stay as we are." Since this works really well, they also have a joint fashion label.
A special connection between the two is their love for the raw material they use. Often, they go together to find the perfect material, and then create their clothes in their own special way: Selvedges are used as decoration, test prints from the beginning of a roll of cloth create T-shirts with clear graphic patterns.
"We decided to open our store in Wedding deliberately, to improve this area. We live here, so we want to work here, too", says Annette Haußknecht. The two of them know that their shop is unique in Wedding. "First, I was shocked when people did not believe in us – when they came inside and explained their doubts in their sometimes rough Berlin way.", Annette remembers. Now, things are different: People know and recognise them.
High quality, unique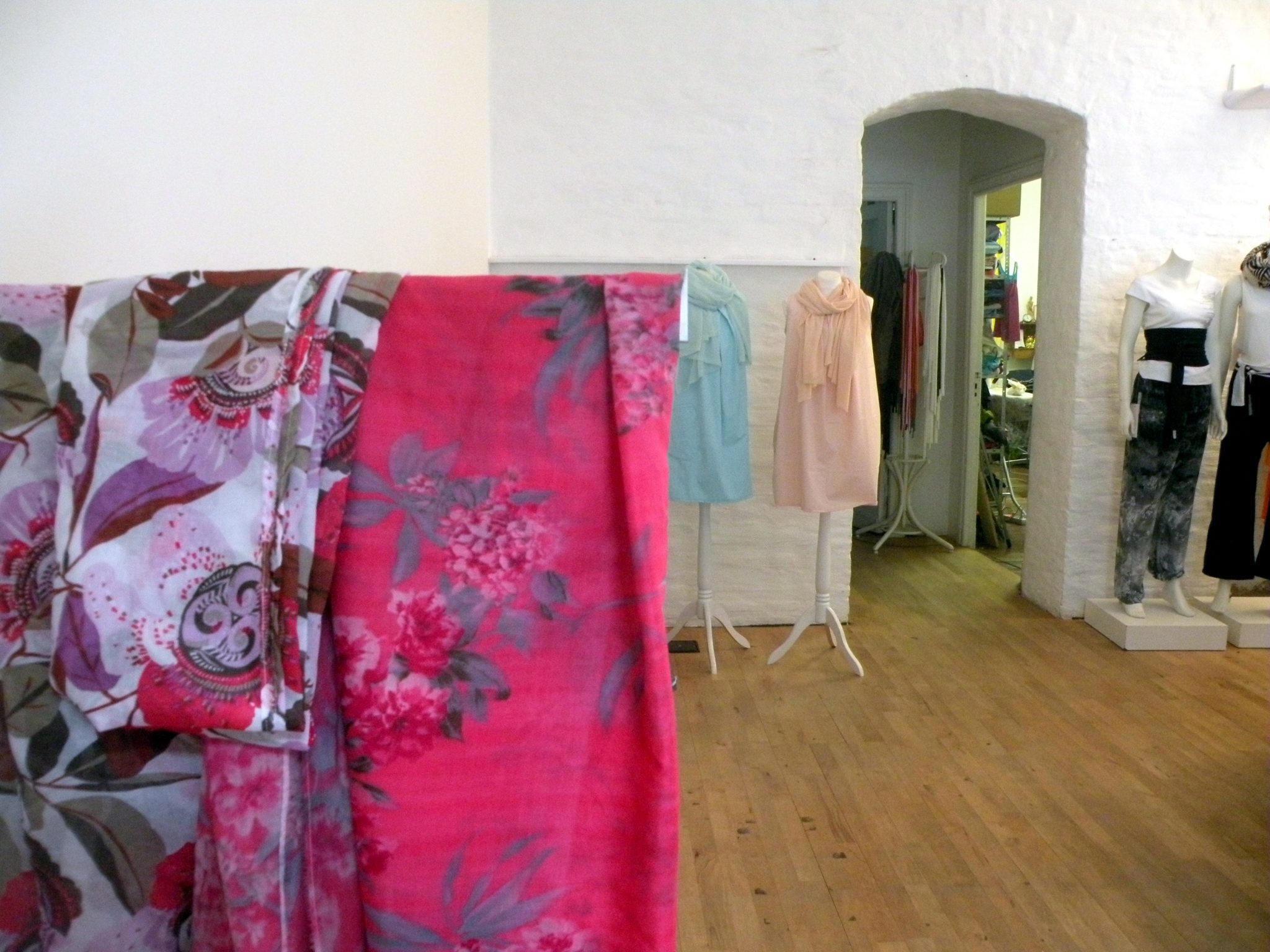 From the outside, 'Montagehalle Berlin' looks exclusive, almost minimalistic. Suse's and Annette's clothes are definitely high quality, but not expensive – they offer tailored women's clothes for a fair 'Wedding' price. Changes to the clothes are (almost) always possible.
It is absolutely worth to have a look around: The centre of 'Montagehalle' is a big table, serving as working space, kid's area and consultation office. Annette says: "I am absolutely convinced by what Suse does and she thinks the same about my work. We put so much passion in this work that we're really happy when customers come deliberately to our shop."
Montagehalle Berlin, Togostraße 79a, 13351 Berlin-Wedding
Opening hours: Mon, Thu, Fri 9 a.m. to 1 p.m., Tue 9 a.m. to 6 p.m. 
Translation: Daniela Hombach
More on Wedding's English Language Facebook-Page "Der schöne Wedding"